Yeah, yeah …. It's late and I'm tired. But this little ditty just made me smile/want to cry. I mean … come the freep on, McCainiacs!!!!
(CNN) — Bail was set at $50,000 Friday night for a GOP campaign worker who made up a story about being attacked by a man angered by a John McCain bumper sticker on her car.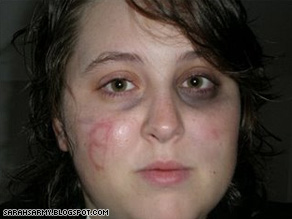 Wake Up… Just in case you barfed or fell asleep before getting to the end:
Before the revelation that the report was false, McCain spokeswoman Jill Hazelbaker said that McCain and running mate Alaska Gov. Sarah Palin "spoke to the victim and her family after learning about the incident."
Talk about trolling (or, better yet, bottom feeding) …. These idiots are taking the country back generations; better yet, they are just proving that America, for all its good, still lies in a cesspool of crap when it comes to race and basic human dignity.
Ah heck … let's just whip up a race frenzy and elect John McCain because he is a white man. Sooner or later, after all, we'll get used to the ice-queen.
Update: