The Killjoy, in this case, would be the famously nutty homophobe or charlatan, (I'm not sure which), Reverend Fred Phelps of Topeka, Kansas and his extended family who cause people all over this nation to scratch their heads in disbelief, regardless of how they feel about gays.
The man who can bring a little light hearted fun to this ridiculous situation is, of course, John Steinbeck Award winning artist: Michael Moore. It seems that Fred Phelps has been sued for making a mockery out of one family's solemn occasion; the funeral of their son.
Personally, I have believed for years that this was planned all along by Phelps and I also believe he wants to lose the lawsuit. Call me crazy, but also try to explain holding up signs like this at a soldiers funeral: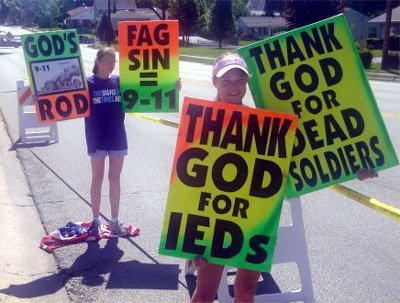 I can't prove a thing and I don't have any special intuition, but this whole thing smells to me and it's going to absolutely reek if it results in the loss of one particle of this country's precious freedom of speech. That's what's at stake. Moore also hopes the Supreme Court will do the obvious, and uphold this creep's right to be a freak.
Now for the fun part!
Michael Moore followed Phelps around a few years back for a segment of his great DVD, "The Awful Truth", and gives him a taste of his own medicine, but in a funny, rather then a hateful way:
UPDATE: In the comments section of this post I said this in response to a comment about caged protesters at political events:
Caged protesters should be the ones suing and having the high court deliberate, but I'll bet you anything our stacked court would have turned down a case like that.
Turns out they DID turn down a case about free speech recently – without comment. Apparently you can't even display a bumper sticker on your car without being ejected from a political event.
Emphasis mine:
In Tuesday's free-speech case, Only Justices Ruth Bader Ginsburg and Sonia Sotomayor voted to hear the case of the Colorado woman, saying the Constitution does not permit public officials to punish people simply "for holding discordant views."
And yet the Supremes are going to hear Fred Phelps's case. And this was supposed to be a "fun" post.