Archive for category Chris Stewart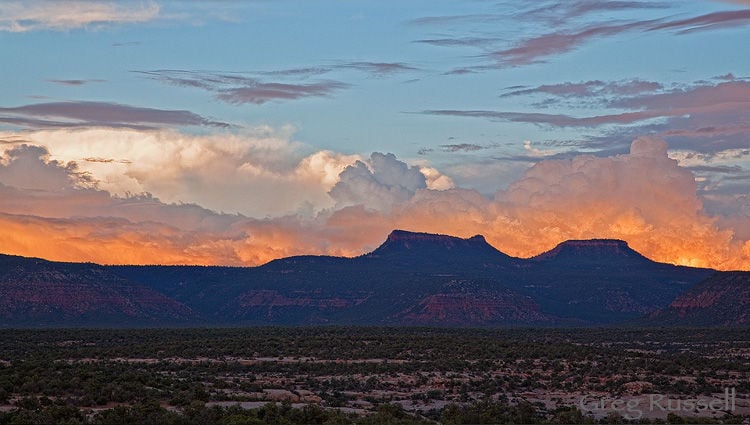 Bears Ears buttes, Elk Ridge, San Juan County Utah
The Bears Ears National Monument proposal has been on the table since last year. There is some speculation that President Obama is readying a proclamation, despite a dire warning from Senator Orrin Hatch that it could result in an armed confrontation similar to the one at Malheur National Wildlife Refuge in Oregon.
The monument proposal stands on its own considerable merits. Adequate protection of the area, particularly the archaeological sites of Cedar Mesa, is long overdue. A recent poll found 71 percent of Utahns support the Bears Ears monument. Additionally, Utah politicians could stand to benefit from a well-timed reminder that we the people own our public lands, not the corporations.
Rep. Chris Stewart recently tacked an amendment onto the Interior Appropriations Bill, seeking to prohibit new national monuments in Utah.
Meanwhile, the Utah Test and Training Range Act land grab has been quietly incorporated in the House-passed National Defense Authorization Act.
The Utah land grab agenda also includes Rep. Rob Bishop and Jason Chaffetz' Public Lands Initiative (PLI), nicknamed the "Plundered Lands Initiative" by conservation groups. The representatives are still threatening to introduce this corporate-friendly development bill in Congress.
Gov. Gary Herbert is still proceeding with a threatened lawsuit aimed at seizing 30 million acres of our Utah public lands, a doomed gesture that may cost us $14 million.
The Grand Staircase-Escalante National Monument (GSENM) is currently celebrating its 20th anniversary. Despite the controversial 1996 proclamation by the Clinton administration, the GSENM is thriving today. Let's hope President Obama is willing to counter the anti-public-lands Utah politicians with a resoundingly popular monument proclamation this summer.
More info:
U-Turn Utah (Center for Western Priorities)
Bears Ears Inter-Tribal Coalition
Friends of Cedar Mesa
New York Times editorial: Monuments for Future Generations
Update:   The first sign of trouble began when they cut off Cherilyn Eagar's (District 2 candidate)  microphone during her speech. Cherlyn Eagar posted this, Apr 26.
Who is Chris Stewart and what was all the kerfuffle at the Utah Republican Convention last Saturday?
And why did Glenn Beck interview Chris Stewart the week before the convention? Why is Glenn Beck involved?
From this vacuous interview, we learn that Congressional Candidate Chris Stewart is a former Air Force pilot, his brother is Federal Judge and Glenn Beck wants to hire Mr. Stewart. Perhaps Glenn Beck just did.