Archive for category Jason Chaffetz

Secretary of the Interior Sally Jewell toured the proposed Bears Ears National Monument last July
Yesterday Reps. Rob Bishop and Jason Chaffetz held a subcommittee hearing on their Public Lands Initiative (PLI) bill. There is virtually no chance of the bill becoming law, however Rep. Bishop is hopeful that by keeping the PLI in play for the few remaining weeks Congress will be in session he can block President Obama from issuing a Bears Ears National Monument proclamation.
Bishop says there's plenty of time left.

"There is a helluva long lame-duck session," he said in an interview. "We're going to be here from after the election to Christmas."

He said he doesn't know if movement on the PLI will stop the president from acting on a monument but that the White House would be hard-pressed to explain why it made such a move against a locally driven process.

Bishop said: "It's going to be very difficult to make this monument unless it's simply, 'Screw you, Utah, in your face.' "
Bishop is ignoring the fact that the Bears Ears monument proposal has the support of a strong majority of Utahns.
More info:
Congress can still avoid a Bears Ears National Monument, says Rep. Jason Chaffetz
Beautiful Film Of The Proposed Bears Ears National Monument (July 2016)
Is President Obama Going to Do This? (June 2016)
Bishop-Chaffetz Bill Is An Attack On Our Public Lands (January 2016)
Bears Ears National Monument (November 2015)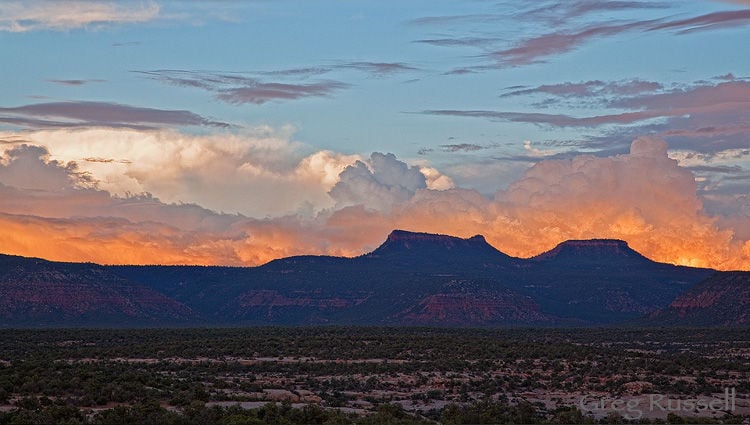 Bears Ears buttes, Elk Ridge, San Juan County Utah
The Bears Ears National Monument proposal has been on the table since last year. There is some speculation that President Obama is readying a proclamation, despite a dire warning from Senator Orrin Hatch that it could result in an armed confrontation similar to the one at Malheur National Wildlife Refuge in Oregon.
The monument proposal stands on its own considerable merits. Adequate protection of the area, particularly the archaeological sites of Cedar Mesa, is long overdue. A recent poll found 71 percent of Utahns support the Bears Ears monument. Additionally, Utah politicians could stand to benefit from a well-timed reminder that we the people own our public lands, not the corporations.
Rep. Chris Stewart recently tacked an amendment onto the Interior Appropriations Bill, seeking to prohibit new national monuments in Utah.
Meanwhile, the Utah Test and Training Range Act land grab has been quietly incorporated in the House-passed National Defense Authorization Act.
The Utah land grab agenda also includes Rep. Rob Bishop and Jason Chaffetz' Public Lands Initiative (PLI), nicknamed the "Plundered Lands Initiative" by conservation groups. The representatives are still threatening to introduce this corporate-friendly development bill in Congress.
Gov. Gary Herbert is still proceeding with a threatened lawsuit aimed at seizing 30 million acres of our Utah public lands, a doomed gesture that may cost us $14 million.
The Grand Staircase-Escalante National Monument (GSENM) is currently celebrating its 20th anniversary. Despite the controversial 1996 proclamation by the Clinton administration, the GSENM is thriving today. Let's hope President Obama is willing to counter the anti-public-lands Utah politicians with a resoundingly popular monument proclamation this summer.
More info:
U-Turn Utah (Center for Western Priorities)
Bears Ears Inter-Tribal Coalition
Friends of Cedar Mesa
New York Times editorial: Monuments for Future Generations
I'm actually naive enough to think that our senators would show up to hear the concerns of the citizens who showed up to a hearing in Salt Lake on March 2nd, 2016, concerning the new "Public Lands Initiative", (PLI). I don't know why I thought that, when the hearing wouldn't have even taken place without being organized by "Utah Physicians for a Healthy Environment".
Jason Chaffetz gets a gold star for sending a notice he wouldn't be present. Orrin Hatch, Rob Bishop and Mike Lee didn't even have enough decency to reply to their invitation. Lack of respect from the senators, for the overwhelming majority of their constituents was a common theme throughout the night.
It was a good turnout, and it's too bad it wasn't held in a larger venue then Orson Spencer Hall. There wasn't enough room for all the people who came to the event, even though some the attendees had to stand along the wall after the seats were gone. People at the back of the auditorium were complaining about all the noise being made by the folks in the foyer.
My camera batteries weren't sufficient to record the entire meeting which lasted over three hours. Many dozens of people submitted a request to speak. I got some good footage though, which I present here for the people of Utah and hopefully others across the nation, since this terrible initiative could affect many other states, should it pass as written.
Enjoy the passion!