Posts Tagged Paul Mero
We Utahns of the more mainstream political persuasion (nationally at least) have a certain affection for Utah's Sutherland Institute Director Paul Mero. He is after all, exceptionally lovable, friendly and affectionately earnest in his radically conservative positions. Most endearing is his forgiving nature and patience in the face of our, at times, rough edges.
In response to Glen's post RIP Jesse Helms: An Honest Bigot Paul wrote,
But when I knew Helms, 1987 to 1997, working with him and his staff when I was in the House, I never saw or heard one drop of racism or of the "good old days."…Helms certainly was no racist by the time I knew him, if he really ever was one
Where were you Paul when "In 1990, locked in a tight race with an African American Democrat, former Charlotte mayor Harvey Gantt, Helms aired a final-week TV ad that showed a pair of white hands crumpling a rejection letter, while an announcer said, "You needed that job and you were the best qualified. But they had to give it to a minority because of a racial quota." (Reference)
As honored as we are, Paul's argument is not with us. He should start with conservative hack David Broder who wrote in 2001, "What really sets Jesse Helms apart is that he is the last prominent unabashed white racist politician in this country"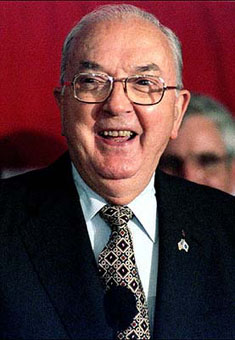 In fact, I have yet to find even one person who is willing to suggest that Jesse Helms was anything other than an unapologetic racist right up until he became a dead racist.
Perhaps Paul knew Senator Helms in a way no one else did. Or perhaps Paul employed some psychological strategy to avoid the spiritual sacrifice required to work for a bigot. However one comes to terms with THAT, is a novel waiting to happen.
So that leaves my friend Paul Mero, who is without question a man of conviction, as the sole defender not only of Utah's greatest racist (Chris Buttars) but now also America's.
I leave you with one of the many more common references to Jesse Helms upon his death and one quite apropos today
Like scum on a stagnant pond, the rottenest elements in American society rose to the top of the political system during the last quarter of the twentieth century.